It's almost Christmas!
I've been stressed about the whole day, I will admit. I left all of the shopping until the last minute and my sanity paid dearly. But I'm finally done and ready to bake and wrap until Santa makes his arrival.
Last week, however, we made some time with help from our friend, Michelle, to see Santa again. I'm really striving to make this a tradition. Last year was more convincing as we ended up with a really good picture of two of my cooperative critters.
Santa and Mrs. Claus 2010
I loved last year's picture so much. Just look at it! Mrs. Claus holding Lola. No crying. It was wonderful.
Now this year's picture...
Skinny, grumpy Santa, Mommy is in the picture because Lola was about to throw the mother of all tantrums if I left her there, and Christian...oh, Christian. There was no Mrs. Clause to help Santa hold the kids. As soon as Lola was placed on Santa's lap, the look on her face told me immediately THIS. IS. NOT. GOING. TO. HAPPEN. So I'm in the picture and at least Lola looks cute! Christian, you look cute, too! It's not your fault you got a skinny Santa who doesn't have the strength to hold you. Bah!
The picture still makes me laugh, though. I'll probably still try and do a Santa picture next year. I just may not be as enthusiastic about it. Isn't it pretty much the law that all parents must have a chaotic/bad/disastrous/fit throwing/terrified child Santa picture? I'm in the club.
And I look at it this way: I'd much rather be struggling with my kids to take a Santa picture with a crappy Santa in a mall than in a hospital with a child who is too sick to be home. I'll take crappy Santa any day of the week. My heart really goes out to those families stuck in the hospital over the holiday season.
Crappy Santa picture aside, I am very proud of this year's Christmas card. I actually love it because it highlights a very proud moment for us as a family.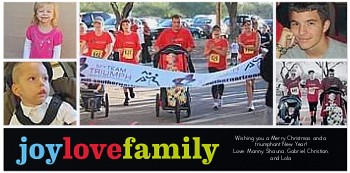 It captures us crossing the finish line as part of MyTeam Triumph in our first 5K race, Christian's first day of school, Lola with her crooked "cheeese" smile, and Gabe is actually smiling.
Beautiful.
Whether you have good Santa pictures or bad Santa pictures of no Santa pictures, have a very Merry Christmas!
Love,
Christian and his family.